By partnering with Tiger Electric for EV charging station opportunities, you can take your business to the next level and become a dependable sustainability ally for your customers. Our robust installation services provide EV charging companies, operators, and manufacturers with all the manpower and support they need to guarantee success!
Comprehensive Services for a Quick and Easy Installation Process
EV Charger Installation & Maintenance Experts
At Tiger Electric, we take pride in our family-owned and employee-operated business model. Our team is highly experienced and trained to handle any EV charger installation or maintenance task with precision and efficiency. We are equipped with cutting-edge tools and technology for seamless project completion. Our certified installers will not only provide expert advice but also ensure that each job is completed on time according to your specifications.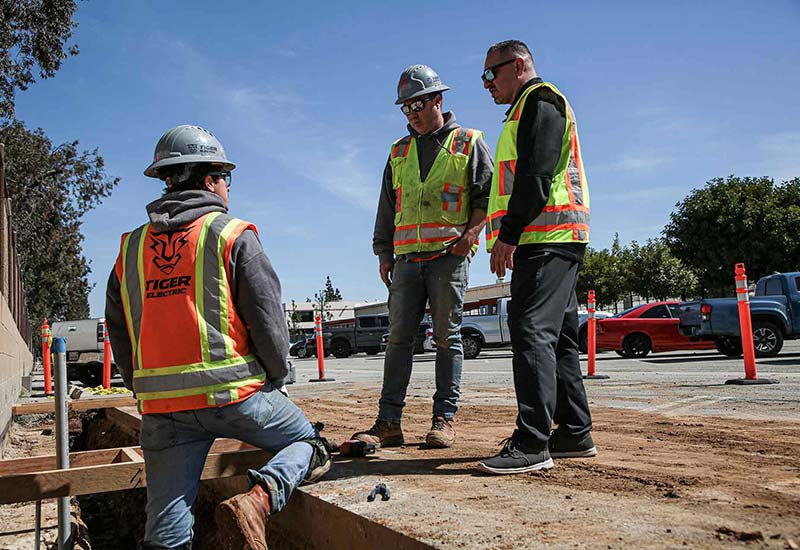 With our range of services, we make it easy for businesses to provide convenient charging solutions to their customers or employees with ease. Not only do we ensure customer satisfaction with our engineering and installation services but also fast turnaround times as well as cost-effective rates on all projects – big or small!
With regular maintenance from Tiger Electric, you can rest assured knowing that your charge station will remain in tip-top shape for an extended period of time. We'll make sure it's always safe to use and keep track of its performance so that if anything does go wrong, we're already one step ahead of the problem. Enjoy a seamless electric charging experience with Tiger Electric!
We offer a unique full-service approach that includes all aspects of an EV charger project from planning, design, installation, testing, and commissioning through post-installation maintenance support if necessary. What's more reassuring is that our streamlined process ensures ongoing communication between our technicians and your team for superior results.
At Tiger Electric, we believe that building a loyal partnership with each of our clients is the key to success.
Discovery is where we take the time to learn about your project vision, needs, and goals.
Once we establish a clear understanding of what you're seeking from us, the next step is developing a proposal.
Once the proposal is accepted, we get to work on the execution of the project.
After completion of the project, we continue with ongoing maintenance and support.
Our goal is guaranteed satisfaction at every stage of our process; from beginning to end.
Are you an EV charging company, operator, or manufacturer?