Providing Commercial

Electric Vehicle Charging

Solutions & Services
Tiger Electric provides comprehensive commercial electric vehicle charging solutions – from installation and maintenance, to repairs and troubleshooting. Our team of certified technicians are highly-trained to ensure your EV charging stations are up and running.
Streamlined Installation and Maintenance Services
At Tiger Electric, we provide the most comprehensive commercial electric vehicle charging solutions available. Our certified specialists ensure that installation is done correctly and precisely for maximum reliability, safety and user convenience. We understand how important EV charging stations are to businesses and their customers, so you can trust us to deliver an exceptional experience every time.
Certified EV Charging Station Installers & Maintenance Providers
Tiger Electric takes pride in its highly trained personnel who are certified by leading institutions in the industry. We guarantee that all of our installers have the required expertise and knowledge needed for successful installations and maintenance services—ensuring your EV charging station's performance is always up to standard.
We offer comprehensive services, from installation to ongoing maintenance, to ensure your business' electric vehicle charging infrastructure is always up and running. Our team has the experience and expertise necessary to provide you with a charging solution that meets your specific needs and budget.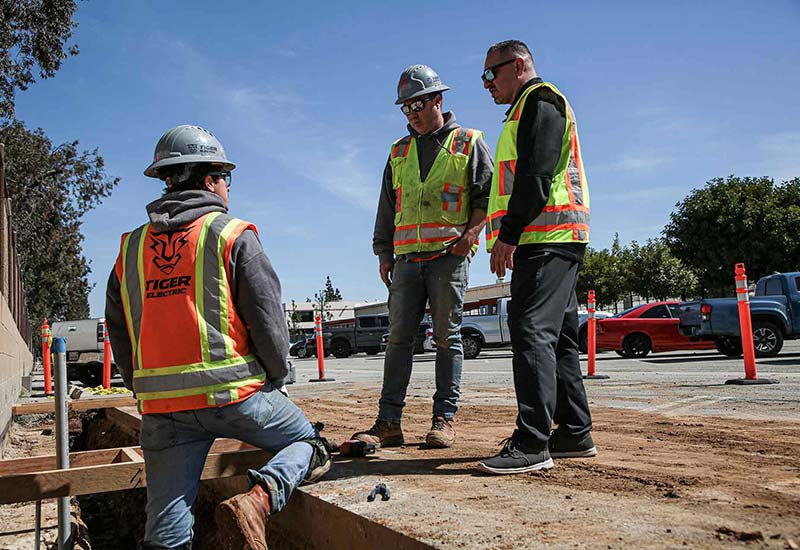 We provide comprehensive commercial and industrial electric vehicle charger installation services that include everything from a thorough consultation to assess your needs to the careful and safe installation of your EV chargers.
Our maintenance service provides comprehensive coverage for your charging station needs, including regular inspections to check for potential safety issues and maximize its performance. We also have an experienced team available to handle any repairs or replacements that may be required.
We offer EV charging companies, operators, and manufacturers comprehensive suite of expert installation and maintenance services for electric vehicles, tailored to their needs and budget, that are fast, reliable, and competitively-priced.
We're Ready to Help With Your Next Project
If you're looking for a reliable and experienced team to install and maintain a commercial electric vehicle charging solution, Tiger Electric is a perfect choice.
Our process is designed to ensure our customers get the best results. We provide a dedicated customer experience that begins with a loyal partnership between us and our clients.
At Tiger Electric, we believe that building a loyal partnership with each of our clients is the key to success.
Discovery is where we take the time to learn about your project vision, needs, and goals.
Once we establish a clear understanding of what you're seeking from us, the next step is developing a proposal.
Once the proposal is accepted, we get to work on the execution of the project
After completion of the project, we continue with ongoing maintenance and support.
Our goal is guaranteed satisfaction at every stage of our process; from beginning to end.